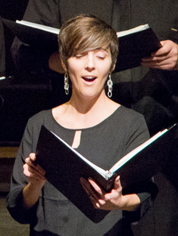 Audition for spring 2017!
The Oriana Consort seeks singers for our next series of concerts in March and April 2017. All voice ranges are welcome to audition. We will be preparing an a cappella program of music from the 20th century, by Herbert Howells, Aaron Copland, and Gerald Finzi; from the 17th century, by Claudio Monteverdi and Thomas Tomkins; and from the 16th century, by Clément Janequin. Sunday evening rehearsals in Cambridge begin on January 8, 2017.
The Oriana Consort is an accomplished chorale of approximately 30 voices, with an eclectic repertory, enthusiastic audiences, and a warm, attractive sound. Listen to samples from recent concerts. We seek good-to-excellent readers with clear, center-of-the-pitch voices that work well with the group. Soloists are always drawn from the membership.
To schedule a half-hour audition, email Walter Chapin at director@orianaconsort.org, summarizing your choral and solo experience. Singing with a quartet of members, you'll read excerpts from our repertory, including a brief but difficult choral part that you'll prepare two days in advance. Bring a solo of your choice.